What to Expect in Your First Semester of Nursing School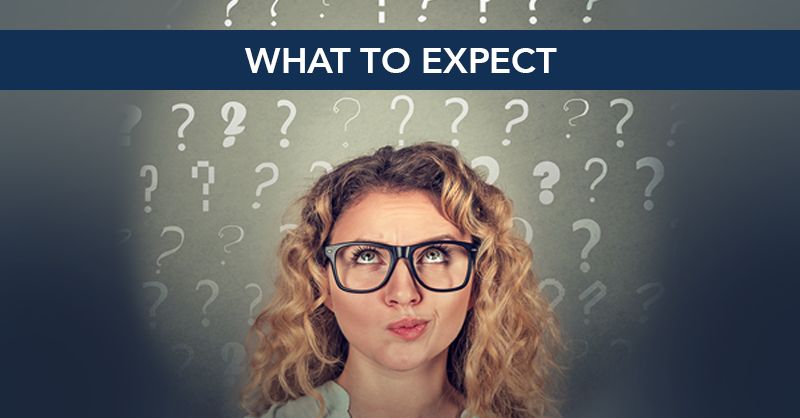 You've completed all of your nursing school prerequisites, submitted all of your paperwork and are finally ready to start nursing school. Now, the anxiety sets in. You ask yourself - Can I really do this? Will I be successful in nursing school? The short answer is yes – it is possible to earn your bachelor's degree in nursing in as few as 16 months after completing your prerequisites through Concordia University's Accelerated Bachelor's of Science in Nursing (ABSN). The long answer? We have to break down exactly what to expect in your first semester of nursing school.
Your First Week
Before you begin classes, you will attend an orientation where you will receive a syllabus, get to ask questions from faculty, meet your classmates, and get a general feel for the nursing site and the work that lies ahead. Then it's time to actually start classes. While your first week will likely feel overwhelming, most ABSN students adjust rather quickly to the rigorous schedule. Here are the two best ways to organize and prepare for the first day:
Write it down. Writing things down is proven to help calm your nerves and help you organize. According to Psychology Today, the act of writing reduces anxiety and helps trigger your brain to organize your thoughts calmly. Organize your study schedule, and write down all of the materials you'll need (notebooks, pens, computer battery for back-up, etc.) Simply writing it all down will allow you to better prepare for your first week of classes.
Build up your contacts. This is the time to speak up and not be afraid to ask questions, especially from those who are in your exact shoes – your cohort. Use orientation to get their contact information and to share any concerns or questions with your fellow students. After all, you all are going to be spending a lot of time together over the next 16 months.
Your First Semester Courses
Below are the courses that you will complete in the first of four semesters. They include online coursework, onsite labs and clinical rotations.
First semester courses:
NUR 350: Fundamentals of Nursing and Caring for Persons with Chronic Conditions*
NUR 351: Nursing Integration of Pathophysiology and Pharmacology I
NUR 352: Introduction to Nursing Informatics and Information Literacy
*Includes onsite clinical component.
What to Expect From Blended Coursework
In each of the four semesters, you will be working through three primary components of the accelerated BSN: online coursework, onsite simulation labs, and in-hospital clinical rotations.
Online Coursework
Unlike a classroom-based nursing program, the online learning component of the ABSN gives you the flexibility to choose when and where you participate in class. The coursework consists of five main sections:
Learning Outcomes – an overview of what you'll be learning in the course
Read and Study Materials – a list of the necessary textbooks or resources you will need
Learning Activities – a detailed list of projects/tasks you will be required to submit, this portion also includes your deadlines
Assessment – go here to check out the discussion forums or see your other assignments
Review – test yourself with the optional self-assessments and review the lesson summaries
Online learning does not mean you are left alone to learn. Concordia University's dedicated faculty and staff are available to guide and support you through the program. In fact, most ABSN students say they have more interaction with their instructors online, than they ever did in their previous on-campus college experiences.
Skills and Simulation Labs
Onsite skills and simulation labs are where you will put what you learned online to work. You'll practice your lessons on a medical manikin and under the supervision of a clinical instructor.
Our high-fidelity medical manikins allow you to:
Apply basic skills, like checking vital signs and monitoring blood pressure
Practice responding to acute and critical events in a controlled, safe environment
Evaluate various patient-care scenarios and administer treatment
Learn from mistakes and effectively correct them with the supervision of faculty
Experience scenarios that focus on understanding and collaborating with a team
Students enjoy the simulation lab because they can get their technique down – like inserting an IV – before seeing real-life patients.
Clinical Rotations
During clinical rotations inside top area hospitals, you will apply what you've learned in a real world setting. While the length may vary, you may complete clinical rotations in the following areas:
Adult Health
Mental Health
Behavioral Health
Obstetrics
Pediatrics
Intensive Care
Acute Care
Long-term Care
Accelerated nursing students especially love clinical rotations because it gives them an opportunity to explore various areas of nursing to find their fit. Clinical placements help provides students an opportunity to identify what area of nursing they want to pursue following graduation and licensure.
Why Concordia University?
Concordia University offers accelerated nursing students a small school feel with big opportunities. Concordia provides a Christian community that encourages student and faculty interaction, individual attention, and spiritual growth – all backed with an emphasis on service. Students who graduate from the nursing program learn to care for the whole patient – mind, body and spirit.
Nursing school is not supposed to be easy. But at Concordia University, you're going to be well prepared and have plenty of resources to help you succeed, not just in becoming a nurse, but also in becoming a healthcare leader.
Take the first step toward you nursing future and contact an ABSN admissions counselor today.