The Best Advice for Nursing Students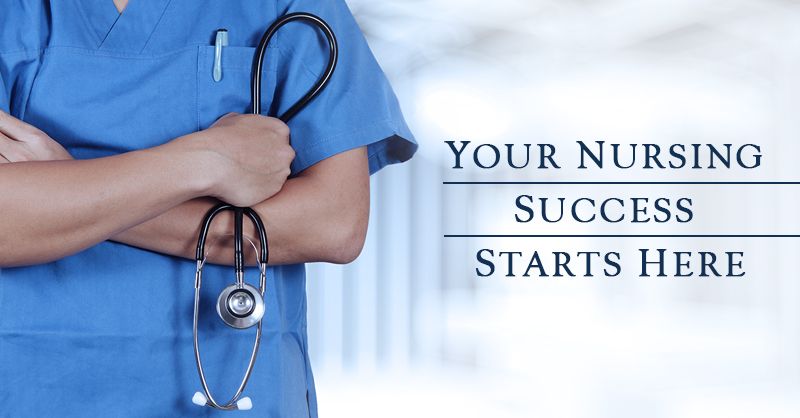 If you've been wanting to change careers and become a nurse, now is the time. Whether you're unsure of what to do with your existing college credits or find yourself looking for a more rewarding career as a registered nurse, Concordia University Accelerated Bachelor of Science in Nursing (ABSN) may be the right path for you. Before you begin the admissions process, it's important to know exactly what to expect during your nursing school journey so you are set up for success. To help you, we're sharing the best advice for nursing students – from the first phone call with an admissions counselor to graduation.
1. Know Why You Want to Become Nurse
Before your first phone call to start the admissions process, you'll want to have an answer ready as to why you want to become a nurse. What initially sparked your interest to pursue a career in nursing? Do you feel called to serve others? Or have you always wanted to work in the growing field of health care? Regardless of your reason, it's important to discover your goal, or mission statement, for wanting to become a registered nurse. Doing so can make your nursing school goals feel more tangible.
Concordia Accelerated BSN student, Stephanie Hollingworth, discovered she wanted to become a nurse after watching a close family friend battle cancer.
"They gave him under six months to live and it really just hammered home that I wanted to be able to give back in the way that these nurses and these medical professionals had given to me and to my family," she says.
2. Order Your Official Academic Transcripts ASAP
Once you have identified your mission statement, you'll want to schedule an admissions interview with one of our dedicated admissions counselors. To make your first interview successful and efficient, we advise you to order your official academic transcripts from all previously attended regionally accredited colleges or institutions; this is a nursing school tip you don't want to forget.
"It helps provide a more detailed, tailored conversation when addressing a nursing student's specific needs or questions regarding eligibility," says Patty Robertson, ABSN admissions counselor at Concordia University.
After reviewing your transcripts, your admissions counselor will help you put together a personalized enrollment plan, including a plan for completing any prerequisite courses with Concordia University.
3. Remember the Importance of Prerequisites
Your prerequisites play a key role in your nursing education at Concordia. Not only will you gain an important base of knowledge to prepare you for the ABSN curriculum, but you'll have a chance to experience the online learning platform, which is important for students who have never dealt with online coursework.
At Concordia, we require all science prerequisites to be current within seven years from the date of application and all math prerequisites to be current within 10 years. However, your general education requirements transferred from another institution will not expire.
"It's worth it, it's really worth it," says Stephanie. "Put in the time, take that extra class; if that one class is expired or those two classes are expired, take them again," says Stephanie. "Work with your admissions counselor, to let them know where you're at."
4. Stay Organized and Use Your Time Wisely
While an accelerated curriculum is rigorous, it's definitely achievable. As you begin the ABSN, be sure to commit to an organizational routine that works best for you and use your time wisely. "I pick a couple days out of the week to complete my schoolwork," says Stephanie.
Our online learning management system allows you to access your coursework 24/7, so it's best to complete assignments during your peak learning time. For example, if you have children, maybe once the kids are put to bed, it's an easier time to complete your work. Developing a personalized study routine will help you stay on track throughout the program.
Research proves that spacing out study sessions over a longer period of time improves long-term memory, so be sure to give yourself short breaks or time off from online coursework, as needed.
"Give yourself rest days, that's really important," says Stephanie. "Each week you really have to be intentional about your time. You really need to be focused and when you're studying, you are studying, make sure there are no other distractions."
5. Practice, Practice, Practice
The nursing theory concepts you learn during online coursework come to life during skills and simulation labs. Through these labs, you will have the opportunity to put your online work into practice at our high-tech ABSN sites.
This practice includes nursing skills like administering injections, checking vital signs and monitoring blood pressure, and it is all done on a medical manikin or patient simulator. "The manikins are great because they're so lifelike," says Stephanie. "You can give a manikin an IV, trach tube, catheter, all while seeing if you've placed it correctly."
It's important that you take the time to refine your skills in the lab before working with actual patients in clinical rotations. The students who tend to be the most successful in clinical rotations aren't afraid to ask their instructors detailed questions during skills and simulation lab. They stay after their routine lab to practice and work with members of their cohort to run through various patient care scenarios and role play.
6. Lean on Your Support System
Without a doubt, the Accelerated BSN program at Concordia University is sure to challenge you each step of the way. But the support you receive throughout your nursing school journey outweighs the difficult tasks you endure.
Your instructors play a vital role in your success as a nursing student and will serve as an invaluable resource.
"I definitely feel like my professors are committed to seeing me succeed," says Stephanie. "They're very willing to make themselves available, they will come in before or after labs if I need extra time on a subject, they've even done additional study sessions before an exam."
Most importantly, get to know the other students in your cohort. "A lot of the support comes from your cohort," says Stephanie. These individuals are experiencing the ABSN with you so they know exactly how you are feeling. It's crucial that you communicate with each other as the curriculum advances, from study sessions to role-playing in the simulation lab, the students in your cohort will soon feel like family.
Do You Have What it takes?
Becoming a quality registered nurse takes hard work and dedication, but if you have the passion, it's possible. With these 6 nursing school tips for success, the opportunity to find success as a nursing student is right at your fingertips.
Are you ready to change the world? Contact us today and find out if Concordia University's Accelerated BSN program is the answer you have been searching for.